Okay, sorry I haven't posted for a little bit, but I did a couple of repeat recipes last week so wasn't much to write about. However we went to Blue River this weekend, which you can soon read more about over at On This Harvest Moon. We had an awesome, fresh, summer dinner though, so I gotta share that with you. The Pop-In-Law had gone up to Blue River in Oklahoma Friday night, and so when we arrived just after noon on Saturday he had already been up early that morning and caught several catfish. So, for dinner we had a real seasonal feast: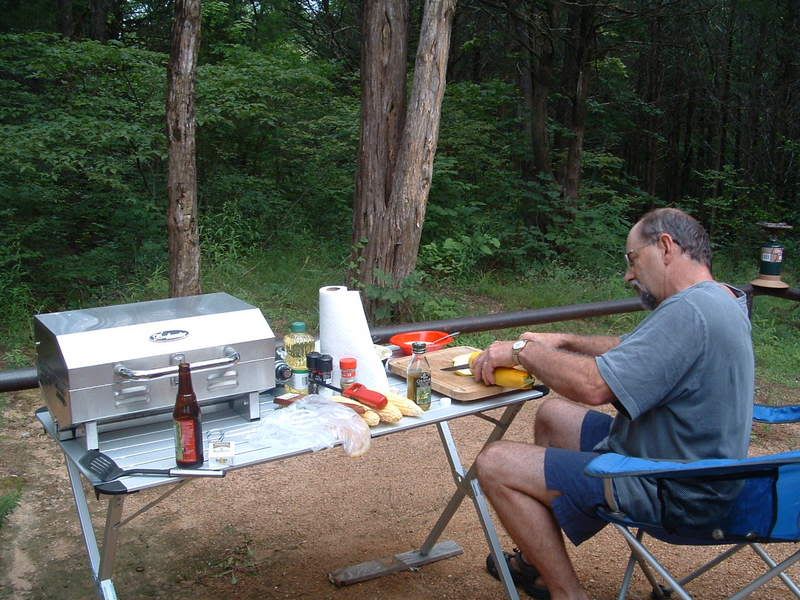 -Fish fresh from the river, cornmeal battered and fried
-Red Potatoes roasted on the grill
-Grilled ears of corn
-Yellow squash, some grilled and some fried
-Homemade Coleslaw
-Green Bell Pepper

The squash, bell pepper and coleslaw ingredients all came from Pop-In-Law's garden. We drizzled the potatoes with olive oil, salt, pepper, and fresh parsley (also from his garden) and cooked them on our portable propane grill double wrapped in foil for 25 minutes, turning once or twice. We rubbed the corn with a little butter and just grilled it directly for about 8 minutes. Everything was so delicious! We just sat around eating, and talking about how much we loved what we were eating. :) After dinner we went down to the river to cool off a little bit, and when we got back to our camp base we had strawberry shortcake for dessert. The perfect end to a great summer meal!