I know I still need to post about Tuesday night's dinner, but last night was so rough I gotta vent about it now. In fact, this week has been rather rough in total. I went grocery shopping Monday night after work. I needed some ground pork for Wednesday's dinner, but there was none to be found. And then when I got home I realized I also forgot the zucchini I needed for Tuesday's meal. So, Tuesday after work I went to a different grocery store for the zucchini and pork. There I was informed by the very young man behind the meat counter that they had just a day or two prior marked the ground pork down because it was about to go bad. It sold out, so I was just a day or two late. Sounds to me like I was right on time. Anyway, last night I made the third trip to a store in search of ground pork. I got it, but for a quite unreasonable almost $6 for barely over a pound. But I was making one of Josh's favorite meals, the one thing he requested when I inquired during my menu planning last week. So, I got it and hurried home, later than usual because of the grocery trip. And then I needed to start on the 5 loads of laundry that didn't get done over the weekend. When I got to the fridge to start gathering ingredients I discovered my ground beef was only partially thawed. Awesome. So, I Googled fast and safe thawing methods. I am typically very paranoid about thawing meats- fridge only for me. Ended up immersing it in a bowl of cold water for 30 minutes and it worked. At least I got a valuable tip out of this whole thing. So, between prepping ingredients, starting the sauce, and running to the laundry room to move loads from washer to dryer, and start washers again, the sauce wasn't ready for it's hour long simmer till 8:12. Yeah. And then it goes 15 minutes after that. Josh and I actually ate dinner together. That almost never happens Tuesday through Thursday. I didn't even finish eating till after 10. I still had laundry to get out of the dryer, too. Oh gosh, it was a long night.

Okay, vent over, on to the recipe. Like I mentioned, Spaghetti Bolognese is one of Josh's most favorite meals. When I attempt to press him to say which his favorite is he says he likes everything I make. But this is the one he mentions the most to other people when talking about my cooking, the one he requests the most, and the one he seems most happy to gobble up. I have mentioned this sauce before, because you use the leftovers to create Bolognese Pie, which I think Josh likes even more than the spaghetti version. As long as this sauce is involved he seems to be a happy camper. It is an Everyday Food recipe, as are most things I make if you haven't caught on to that by now, ha. Oh, and the pic is from the Martha Stewart website. We got new laptops and I haven't installed the camera's software on mine yet. And to be honest I have no idea how, so I've got to get Josh to do it. Not that my pics are that great anyway, so I'm not really depriving you of anything spectacular.

Spaghetti with Bolognese Sauce
Recipe from Everyday Food; Serves 4- plus 4 cups for Bolognese Pie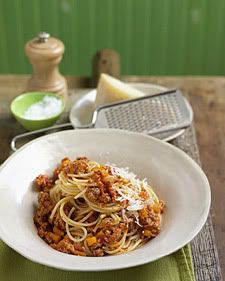 1 tablespoon olive oil
2 onions, finely chopped (3 cups)
3 carrots, finely chopped (1 cup)
6 garlic cloves, minced
1 pound ground beef
1 pound ground pork
1/4 cup tomato paste
Coarse salt and ground pepper
1 cup dry white wine
1 28 oz. can crushed tomatoes in puree
1 cup milk
12 ounces spaghetti
Finely grated Parmesan cheese, for serving

Make sauce: In a Dutch oven (or 5-quart saucepan), heat oil over high heat. Add onions, carrots, and garlic; cook, stirring, until slightly softened, about 2 minutes. Add beef and pork; cook, breaking up meat with a spoon, until no longer pink, about 5 minutes. Stir in tomato paste; cook 1 minute. Season generously with salt and pepper.

Add wine and tomatoes. Bring sauce to a simmer; cook, partially covered, stirring occasionally, until thickened, about 1 hour. Add milk; simmer until completely absorbed, about 15 minutes more. Season again with salt and pepper.

When sauce is almost done, cook pasta in a pot of boiling salted water until al dente, according to package instructions; drain. Toss pasta with half the meat sauce; save 4 cups for Bolognese Pie. Serve sprinkled with cheese.
My notes: Sometimes I use Parmesan, sometimes I don't. My husband puts Parmesan on any pasta dish, so there is plenty on his. Since there's just the two of us I typically freeze 4 cups of the sauce to make the Bolognese Pie at a later date, and then freeze any sauce leftover after that separately, for an additional quick meal with spaghetti. The Bolognese Pie serves 4, so with this one pot of sauce we get anywhere from 8-10 meals, depending on how much sauce we each use on our spaghetti.
And don't forget to come visit me at my new blog
On This Harvest Moon
!