I guess maybe I shouldn't call it a bust. I mean, they were edible, didn't really taste bad at all. And in fact, Josh loved them, although I think the major factor in his opinion is that he really likes brussels sprouts and I had never, ever made them before. Truthfully, I'd never even eaten them before. Harvest month though made me think I should keep stretching my food boundaries, and not just in the grain category. So, when looking for something new to try I decided brussels sprouts would be a great treat for my husband. And I went whole-hog too, buying a big stalk of them. I figured that would be best way to get to know my new cruciferous friend. Trimming and cleaning them off the stalk was a little time consuming, but also very pleasant task. Now if I hadn't failed at the actually cooking of them things would have been a total win. But, I burned them. To be fair, they were supposed to be carmelized. I just did it a little too well, ha. I'm sharing the recipe anyway, because I figure if they tasted good burned, they must taste excellent when you don't burn them. :)

Carmelized Brussels Sprouts with Lemon
Recipe from Everyday Food: Serves 4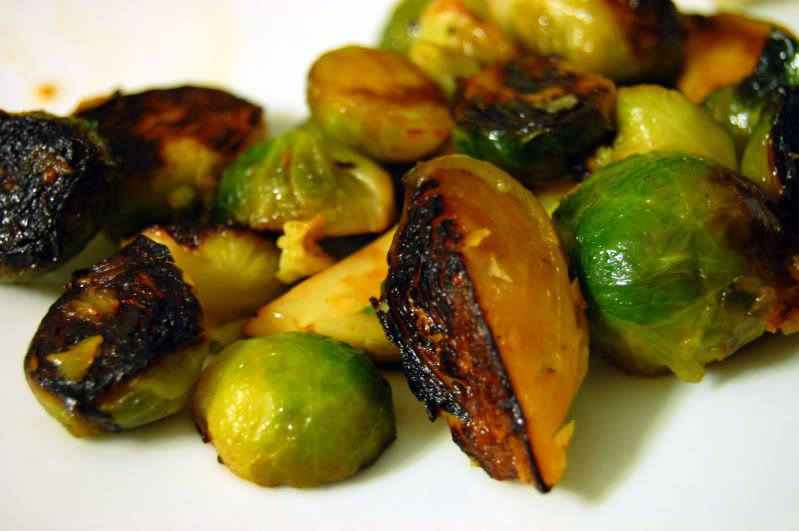 12 ounces Brussels sprouts, halved lengthwise, or quartered if large
Coarse salt and ground pepper
2 tablespoons olive oil
1 tablespoon fresh lemon juice, plus lemon wedges, for serving

In a skillet, combine sprouts and 1/2 cup water; season with salt and pepper. Bring to a simmer over medium. Cover; cook, stirring occasionally, until most of the water has evaporated and sprouts are crisp-tender, 5 to 8 minutes (add cup more water if skillet becomes dry before sprouts are done).

Increase heat to medium-high; add oil to skillet. Continue to cook, uncovered, without stirring, until sprouts are golden brown on underside, 5 to 7 minutes. Remove from heat. Stir in lemon juice; season with salt and pepper. Serve with lemon wedges.
My Notes: It's that tidbit about not stirring that got me my burned sprouts. I say a stir or two might be helpful, ha. I also should have known that with my tempermental burner I probably should have turned the heat down a little lower than what they recommended. Oh well! We didn't starve. That's the important part, right?