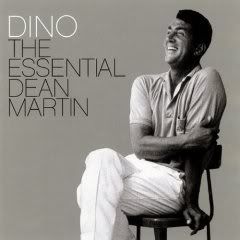 Last time I told you about my love of cooking (and dancing) to the tunes of
Louis Prima
. Lately I've been enjoying another compilation album while I'm cooking up a storm. Dean Martin has been my artist of choice over the past few weeks, whether I'm making a mean lasagna or just tossing together a salad.
Dino: The Essential Dean Martin
has all the hits you could ask for. Some of my favorites include
Sway
,
Volare
, and of course his signature song,
That's Amore
. There are 30 tracks on this album, with a lot of the better known hits being at the beginning, so it can be enjoyed while making a quick meal or preparing a big feast. The only problem? Sometimes I'll get distracted perfecting my mambo routine while I'm cooking. I can't help it! When
Mambo Italiano
comes on I just have to move!