I don't have any big plans for this weekend, as far as baking or cooking go that is. I'm most likely going to Mayfest with Stephanie and her family, and another friend & family. And I think we're hoping to party Cinco De Mayo style afterward. Did somebody say margaritas? Have no fears, I will still do a write-up on my Saturday morning shows though.


Anyway, I decided to just do a bit of a round up post of what else has been going on in my kitchen this week. Now, I know I mentioned that I served the Zucchini Lasagna with a salad, but what I neglected to tell you was that the carrot I used in it came from my father-in-laws garden. Isn't it perty? We've also made a salad with their romaine, and enjoyed many other fruits, er vegetables, of their labor. Hopefully I can get by and take a picture of the garden to share it all with you. They have the biggest rosemary bush! And I also hope to reap the rewards of their hard work more in the future!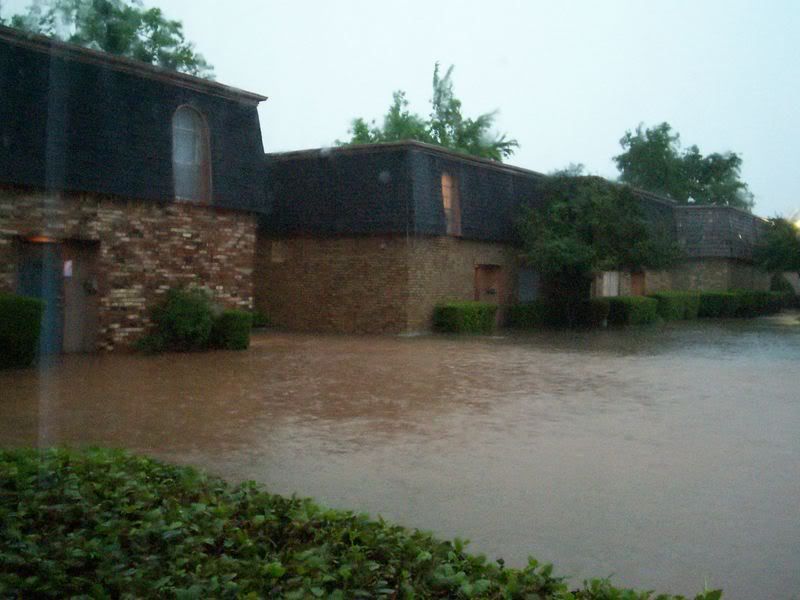 Wednesday night dinner was delayed considerably due to inclement weather. There's nothing like a flash flood, to welcome you home, I've always said. Wait, no I haven't ever said that. But living in Texas, sometimes it happens. I guess plenty of places get flash floods, but with the tornado sirens going off once a week for the past month or so it's getting a bit old. The loverly view to the left is the view I was treated to while peering out my front window. Through luck, our apartment is placed just so, as to avoid getting flooded. When I did finally get around to making dinner, I
made Kelly's Honey Mustard Chicken along with vegetable brown rice and red grapes. I had to seed the grapes, which was more of a hassle than a difficulty, but I thought it would compliment the chicken nicely, and I was quite right. At least I think I was, ha. Next time I use this marinade I think I'm going to do chicken cutlets, and make yummy sandwiches





And last but not least, Thursday's dinner, Roasted Pork with Black-Eyed Pea Salad. This is a recipe that I'd been meaning to try for quite sometime. But, I'm taking the easy way out on this one. I highly recommend that you click on that lovely little link and get this recipe for yourself. It was really delicious, and really easy. I've made the salad several times before, but this was the first time I'd done the pork tenderloin too. I had some difficulty getting it up to the right temperature, but I think the problem might lie in my thermometer actually. I'm also cheating and using Martha's pic, cause I just couldn't cut my pork that neatly. But really, don't take my not typing up the whole recipe a sign that it isn't delicious. Just take it as a sign that I'm excited because it's Chipotle Friday and the hubster just got home. I gotta get me some chips & guacamole, so I'll check you chicas later. Adios!