Setting up my new kitchen was a pretty exciting adventure. Since we had plenty of time before we actually moved in I was able to mull over where I would like to put everything. I tried to be logical about my use of the space, placing things close to where I would most likely use them in the space. There are still some things to be done(I still need to create a solution for spice storage, actually hang my hanging baskets), and I'm sure as I begin to work more and more in here that some necessary adjustments will become obvious, but for now this is where we stand.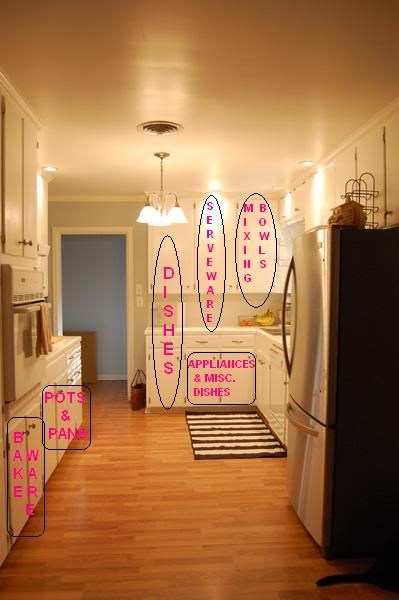 This is a general outline of how I've organized my kitchen cabinets.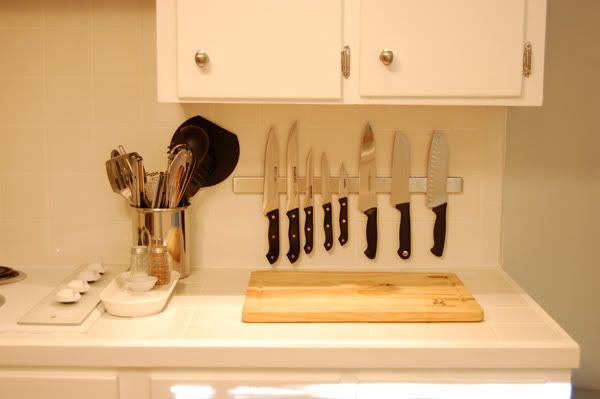 To the right of the cooktop I set up my prep area. I have my cooking utensils, knives and cutting board set up for easy access while cooking. In the cabinet above I will store my spices and currently store my cooking oils, vinegars, the plastic cutting boards that I use for meats, and other prep work tools like my cheese graters and mandoline slicer. In the drawers beneath this area are my less frequently used knives, measuring spoons, vegetable peeler, zester, etc.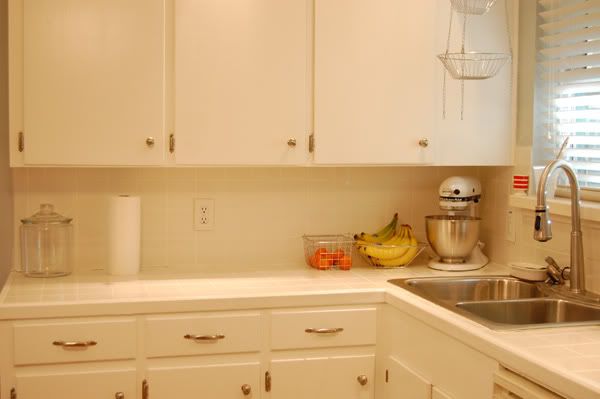 This is my mixing area and also where I keep our dishes. I originally planned on storing our dishes above the dishwasher, but the upper cabinets aren't deep enough for our large dinner plates. So instead I arranged our smaller salad plates and bowls in the upper left cabinets and the large dinner plates in the lower left cabinet. These cabinets are still definitely within easy reach of the dishwasher though. The rest of the upper cabinets contain the glass and Corningware serveware and my mixing bowls, measuring cups, etc. I keep my mixer on the counter top for easier access, much easier than it's apartment space- the top of the refrigerator! In the lower cabinets, beside the dinner plates, I store appliances like the slow cooker, blender, and toaster.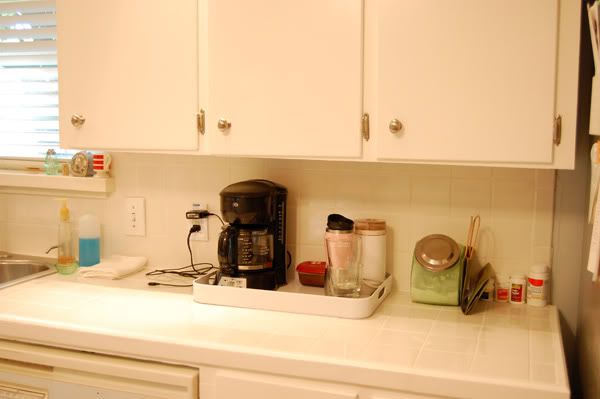 This slightly disheveled area is where we keep the coffee stuffs, on a tray to help prevent staining our white counter top & grout. The upper cabinets are filled with our glassware and cups and saucers. I split up our dinnerware this way because it made more sense to me to keep things where they would be used. The lower cabinets are mainly filled with Tupperware and food storage supplies. This area is next to the refrigerator, so it seemed like a logical space for the leftovers tools.

Cooking in this new space has so far been pretty easy. Every space has pluses and minuses- for instance my new oven is smaller than my old one. But this smaller oven also has a window and oven light. I don't have to open the door to check on stuff- which saves me cooking time and energy. It's a give and take with everything I guess, but so far I'm getting a lot more enjoyment out of this kitchen. Soon I'll share my new pantry with you!