We certainly didn't sustain ourselves on cookies alone, so here's some info on the rest of our picnic dinner from last weekend. I tried to make things nice and summery, but also not too difficult or messy. The best idea for planning a meal away from your kitchen, or any meal for entertaining really, is to combine ready-to-eat items with homemade recipes. And ready-to-eat doesn't have to mean anything heavily processed. Our meal consisted of Caprese sandwiches, roasted corn on the cob, garlic-rosemary baked chips and fresh fruit. Fruit didn't need anything other than a good rinse and it was ready to go. The chips came in a resealable bag making them great for outdoor eating and travel. There's half our meal taken care of in no time flat, leaving me time to make those delicious cookies we had for dessert. Roasting the corn was also pretty quick and easy. The Caprese sandwiches are my current favorite- so good. Might want to put this recipe off until the tomato scare is over, but when it is I'll be making more for sure. Overall it was picnic perfect!

Caprese Sandwiches
Serves 4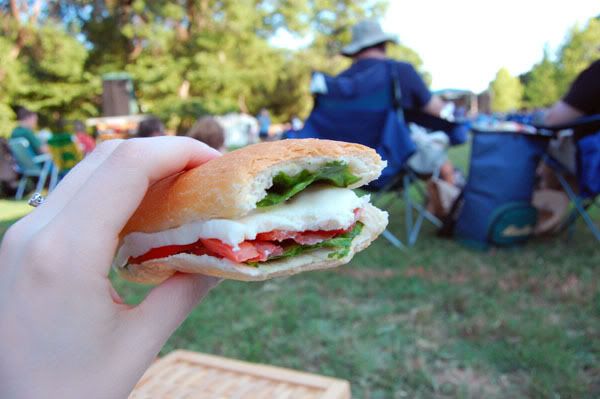 1 fresh baguette
1 bunch fresh basil
2 roma tomatoes, seeded and thinly sliced lengthwise
8 oz. fresh mozzarella, thinly sliced
Olive oil
Coarse salt and ground pepper

Slice the baguette crosswise into 4 pieces as evenly as possible. Slice each piece in half lengthwise. Brush each slice lightly with olive oil; season lightly with salt and pepper.
Starting with the bottom slice of baguette, layer fresh basil leaves, tomato slices, and mozzarella. Top with additional basil leaves and second baguette slice.
To pack for picnic: press sandwich together and wrap tightly with plastic wrap or wax paper. Secure with twine or tape. Store in cooler, in freezer bag if necessary to protect from too much moisture.

Roasted Corn
As many ears of corn as you'd like to prepare
Butter
Coarse salt and ground pepper
Preheat oven to 375 degrees. Pull back corn husks and remove silks from the ears. Brush corn with butter and season with salt and pepper. Pull husks back up over corn and secure with kitchen twine.
Roast corn on a baking sheet for 25 minutes, turning over once.
To pack for picnic: allow to cool some before wrapping with wax paper and securing with twine. Pack in picnic basket.
I went the simple route so as not to compete with the basil in the sandwiches, but you could also try a flavored butter with the corn-
Corn with Cheesy Butter
,
Herb Butter
,
Grilled Corn with Seasoned Butter